Interview with Yui Makino in Rome
Date: 2010.06.22
Interview
Before her concert, held on June 19th in "Stazione Birra" in Rome; Yui Makino met Nippon Project for an interview.
First of all, welcome to Italy and thanks for you precious time.
YUI:
Thanks to you.
This is the first time you perform in Italy, how do you feel?
YUI:
I am still a little upset. I arrived only yesterday, I only had lunch and I'm very hot. But at least here it is not as wet as Japan.
Have you ever been in Italy before?
YUI:
No, I haven't. This is my first time.
What do you expect from the concert tomorrow?
YUI:
I hope many people will come! Also because I want to meet my fans, talk to them and feel their warmth.
Did you already visit Rome? Or you'll have time to visit?
YUI:
Not yet. But I really would like to visit the "Bocca della verità" and the colosseum. And I would like to buy many souvenirs, especially some magnet colosseum-shaped for my refrigerator, if I find them.
The most of your songs were used as symbols of anime. You also have dubbed many anime. Which one is your favorite?
YUI:
I like them all without preferences. But if I have to choose one..."Tsubasa Chronicle" is the one I began with and so the one that gives me the most of good memories.
Your fans call you in several ways: "Yucca", "Maki-Maki" or "Yui-chan". Which one do you prefer?
YUI:
Sincerly "Yucchi" is my favourite. But I don't like "Maki-Maki"...I really don't like it (smiles).
On March 3, you released on your single "*Fuwa Fuwa♪*" can you tell us something about it?
YUI:
This single is born after a label change, and for me many "technical" things are changed. The way we worked were different from other labels, a different schedule, and so on. Even if the single came out in March, I've been working on new songs for over a year, so after this single I will release other singles and then the album.
In this song you say you like tall boys . Am I tall enough?
YUI:
Hmmmm how much?
RyoGa:
190 cm!
YUI:
Good! Ok!!
(laughing)
Where did you shoot the video?
YUI:
Minami Aoyane (Tokyo -ndr)
Can you tell us something funny that happened while filming the PV?
YUI:
Working with Shunji is really beautiful. I've know him for many years, but we never worked together, and only now I realized what a great professionist he is!
Tomorrow I will present here the single and the video.
You are very young, but you already have a long career behind you. What shall will we expect from you?
YUI:
I would like to act in a Musical. I love the stage, I've been on it several times, but never for a Musical. It should also great to work with people like Ennio Morricone, who is one of my favourite composers, and compose and play movies soundtracks.
But maybe it's to early for me to think about this.....maybe when I'm 40....(laughs)
Have you ever thought about doing something different?
YUI:
Pharmacist. I liked it from childhood. (smiles)
How do you see yourself in ten years?
YUI:
I see...I'll be 34! (laughs)
In 10 years life may change. When I was 14 I've never expected to be at 24 with anime soundtracks sung by me, anime characters with my voice, PV, singles, album...I can not make any prevision. I just hope I'll work with music forever.
In a few days you'll perform in France, it' s not the first time you perform there. What is the best memory of last time?
YUI:
I was really afraid to find a few people...but the venue was full and everyone was singing my songs in my language! (smiles) And...many people talked Japanese...I didn't expect that.
You have even been to New York too. Where else would you like to perform in?
YUI:
Let me think...I've been there, in the USA, then in Pekin, Korea, France, Italy and in Germany, but not for singing; just guest in a TV show...mmmh yes! I would like to go to Germany again for a concert!
We are in the World Cup period. Are you are following it?
YUI:
Hmm I am really busy because of the tour...I follow it when I can.
Japan will play tomorrow against the Netherlands. How about a prediction?
YUI:
For our team, the only fact to play in the world cup is a hard target...winning a match is a true dream. But let me say...ok, I respect the team but...tomorrow I'll cheer for myself and no one more! (laughs)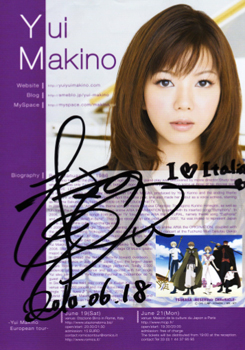 When you're not working what do you like to do?
YUI:
Read health and medicine books...interior decoration books...hmm too much indoor activities...no not good (laughs). When it's not raining, it's not too hot or too cold, and it's not too wet...I go shopping!
Do you have any message for your Italian fans?
YUI:
I'll keep going on with my work with all by myself.
Cheer for me, as you've always done. I hope to visit Italy again soon and I hope tomorrow you will come to my concert.
I really love Italy. Your mozzarella is the best and I finally learned that caprese is a typical dish, not only a short pasta, as in Japan. I really liked it. I want to come back and eat it again!
Ganbatte Italy!
At the end of the interview, Yui autographed for us one or her promotional flyer
Nippon Project would like to thank Sony Music Japan and the Romics On Tour for the interview and thanks very much Yui Makino for her kindness, her sympathy and her beautiful smiles